This year has been a memorable one for many reasons – both positive and negative. 
The COVID-19 pandemic has dominated headlines across the world and changed the lives of many, but it hasn't been the only thing grabbing the world's attention. 
The pandemic, coupled with topics including Brexit negotiations, Black Lives Matter protests and crunch climate change talks, has meant 2020 has been one of the strangest years in recent decades.
Strange times can also produce some powerful and striking statements. Here are some of the most memorable from the past 12 months.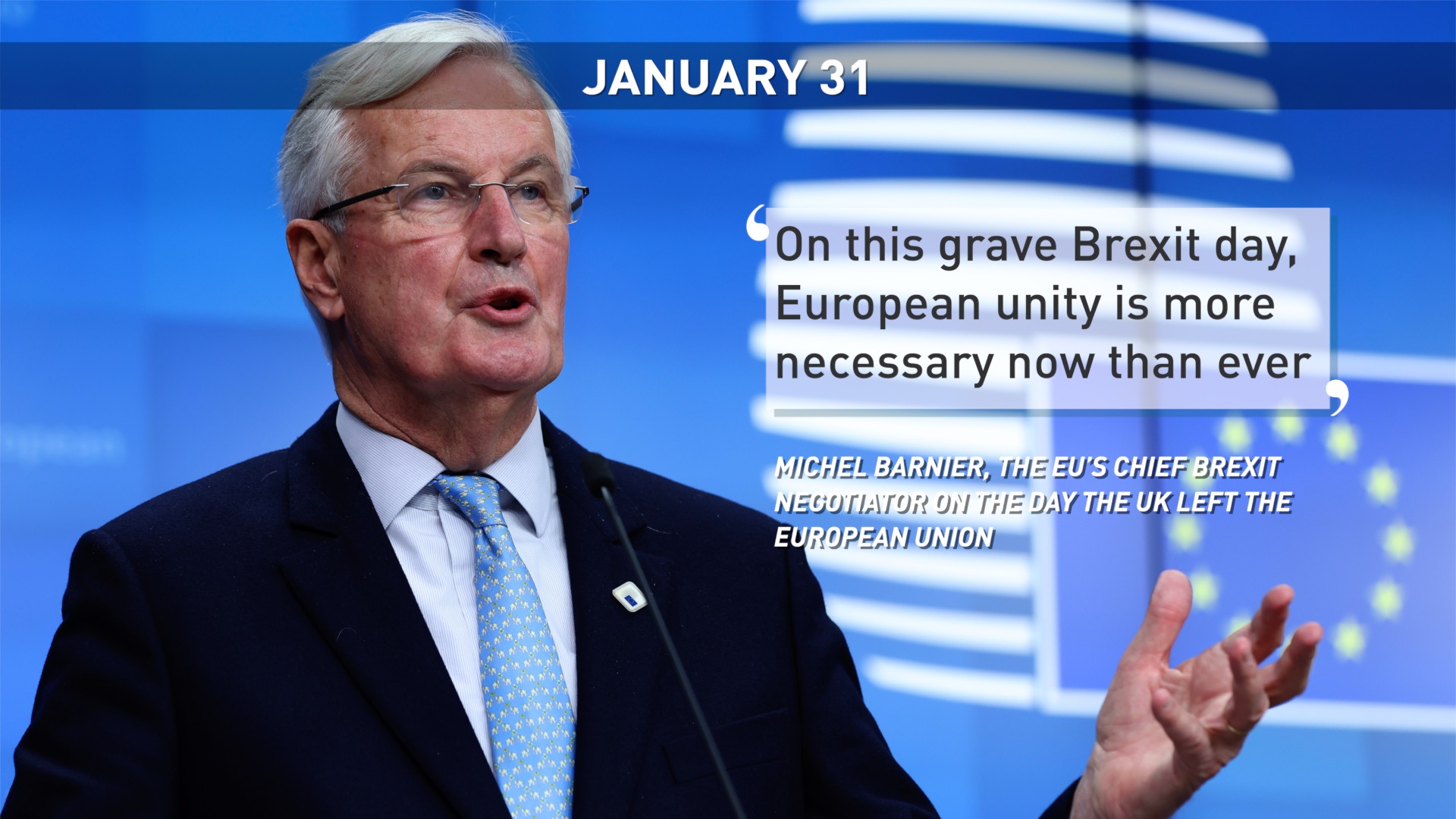 On the day the UK officially left the European Union (but entered an 11-month transition period) after years of political uncertainty since its Brexit vote in 2016, the EU's chief Brexit negotiator, Michel Barnier, made his feelings known about the decision. 
The UK's Prime Minister Boris Johnson insisted, however, that Brexit would mark a moment of "national renewal" after which the nation could become "a great European power, and truly global in our range and ambitions."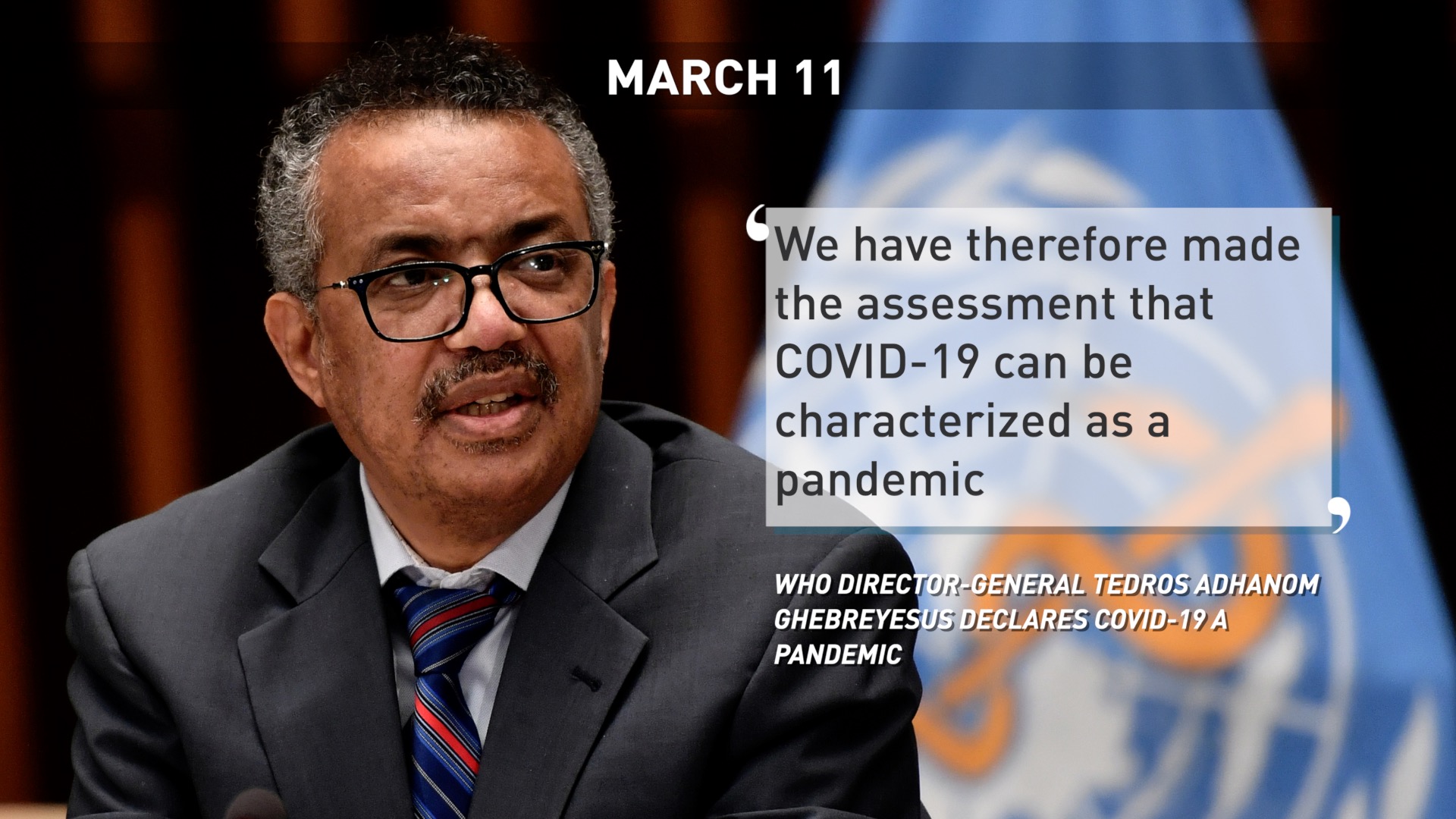 After several days of holding back from using the term pandemic, the World Health Organization's Director-General Tedros Adhanom Ghebreyesus finally classed the freshly named disease COVID-19 a pandemic during a daily press conference in Geneva. 
This announcement led to many governments acting quickly to implement measures in a bid to contain the virus.
"Pandemic is not a word to use lightly or carelessly. It is a word that, if misused, can cause unreasonable fear, or unjustified acceptance that the fight is over, leading to unnecessary suffering and death," he added.
You never know how much you love somebody until they're gone
 –  Dolly Parton on the death of fellow country singer Kenny Rogers, March 21
Country singers Dolly Parton and Kenny Rogers were long-time collaborators and friends. 
While Rogers' death on March 20, aged 81, brought sadness to the music world, Parton was hit especially hard by the news.
"I've had so many wonderful years and wonderful times with my friend Kenny, but above all the music and the success I loved him as a wonderful man and a true friend," she added.
 
Artists are not only indispensable, but also vital, especially now
 –  Monika Grütters, Germany's Culture Minister – March 25
Sectors across Europe were hit hard by the pandemic, arguably none more than the culture sector.
Germany's Culture Minister Monika Gruetters' comments came after the government announced a $54 billion aid package to help those in the cultural, creative and media sectors who were struggling to get through the crisis.
"The cultural sector in particular is characterized by a high proportion of self-employed people who now have problems with their livelihoods," she added.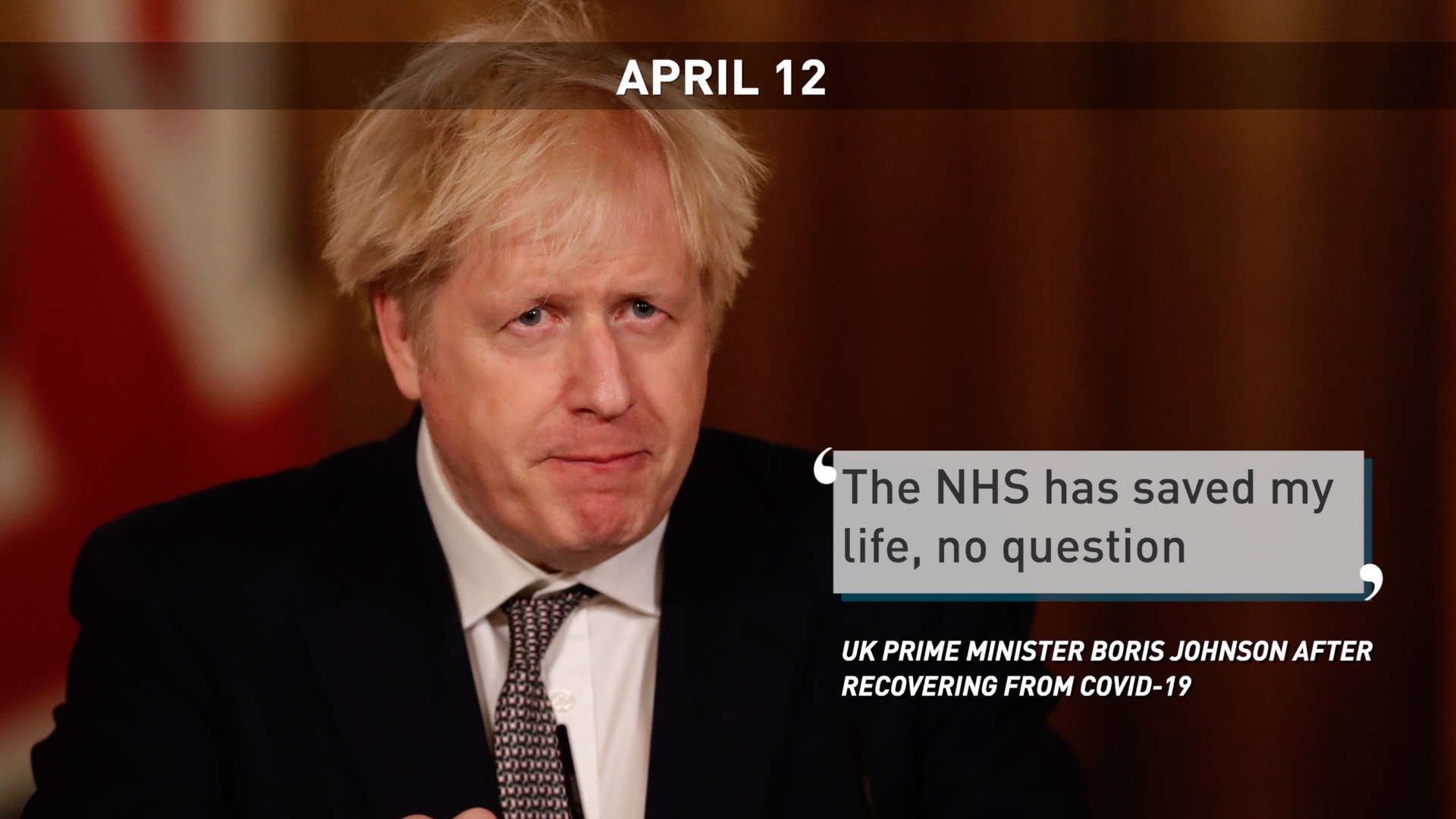 UK's Prime Minister Boris Johnson spent three days in a London hospital's intensive care unit after he was diagnosed with COVID-19 at the end of the March. 
After leaving the hospital, Johnson thanked his doctors and vowed to help the UK defeat the virus after the country passed 10,000 deaths during that week. 
Johnson said his personal battle with COVID-19 "could have gone either way" and said there was "no question" that doctors saved his life. 
"I hope they won't mind if I mention in particular two nurses who stood by my bedside for 48 hours," he added.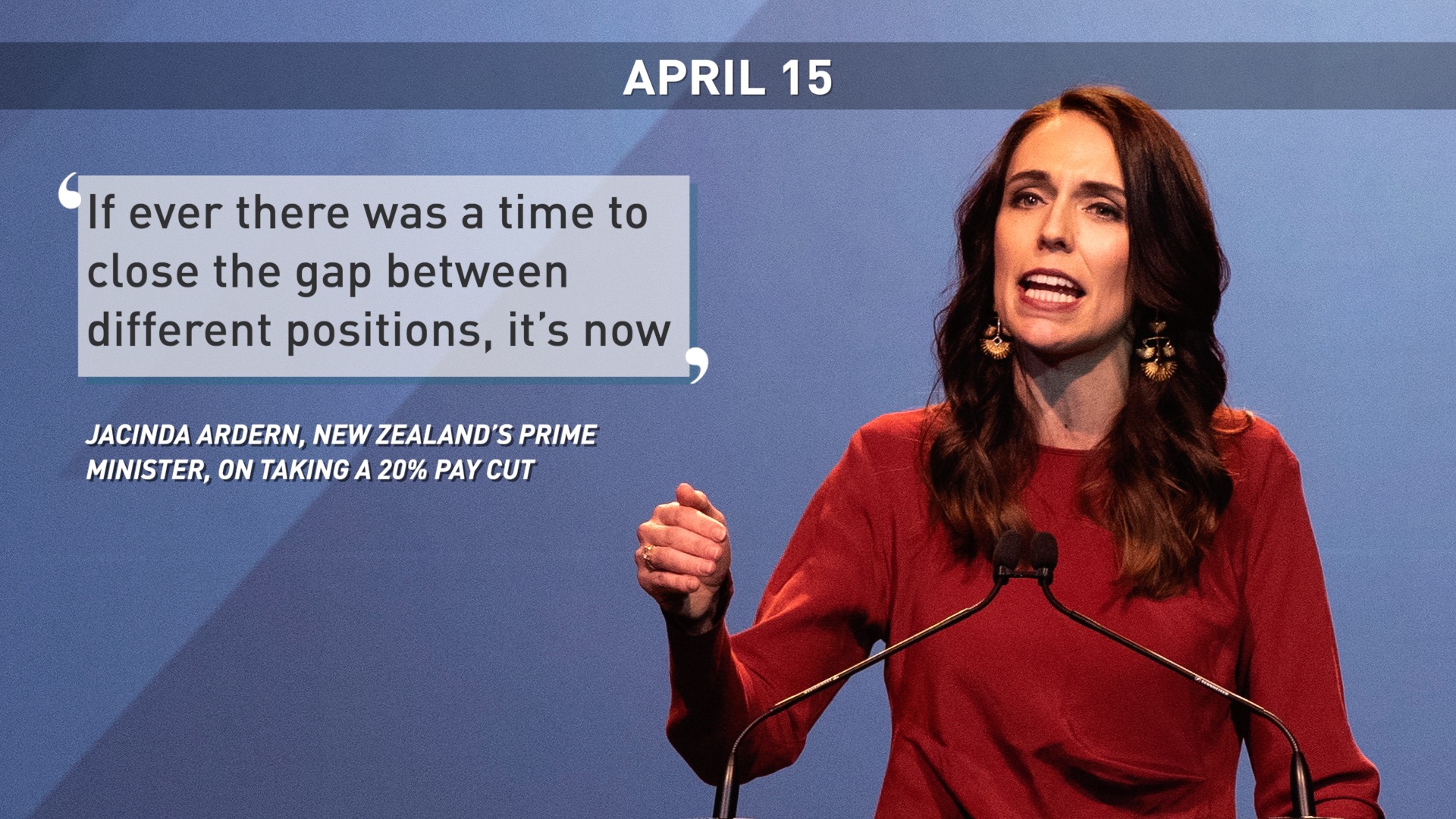 New Zealand's Prime Minister Jacinda Ardern has earnt a lot of praise for the way she has dealt with situations throughout the COVID-19 pandemic and this act was no different.
In April she announced she would take a 20 percent pay cut in a symbolic act of solidarity with people struggling financially amid the crisis.
Ardern added that her personal salary, as well as those of her fellow ministers and top public servants, would be slashed by a fifth for at least six months.
We will do everything we can to keep the airline going – but we will need government support to achieve that
 –  Richard Branson, Virgin Atlantic founder and CEO – April 19
Virgin Atlantic CEO Richard Branson's remarks were made in an open letter to the company's employees.
Many airlines have struggled to survive the pandemic, with lockdowns, border closures, travel restrictions and quarantine periods creating a difficult situation for potential travelers.
Branson said at the time the firm needed urgent support because of the "severe uncertainty surrounding travel today and not knowing how long the planes will be grounded for."
And with a fall in the airline's share price, Branson said Virgin was "not worth much anymore" calling ministers not to bail it out if its finances deteriorated further, adding that "it would be better to wait for its demise."
We could be facing multiple famines of biblical proportions within a short few months
 –  David Beasley, World Food Programme executive director – April 21
According to a World Food Programme (WFP) report on food crises released in April, the number of people suffering from hunger across the world could increase from 135 million to more than 250 million with those most at risk in 10 countries affected by conflict, economic crisis and climate change. 
During the same month as the report was released, the WFP's Executive Director David Beasley called for urgent action to avoid what he described as "multiple famines of biblical proportions within a short few months."
"I do believe that with our expertise and our partnerships, we can bring together the teams and the programs necessary to make certain the COVID-19 pandemic does not become a human and food crisis catastrophe," he added.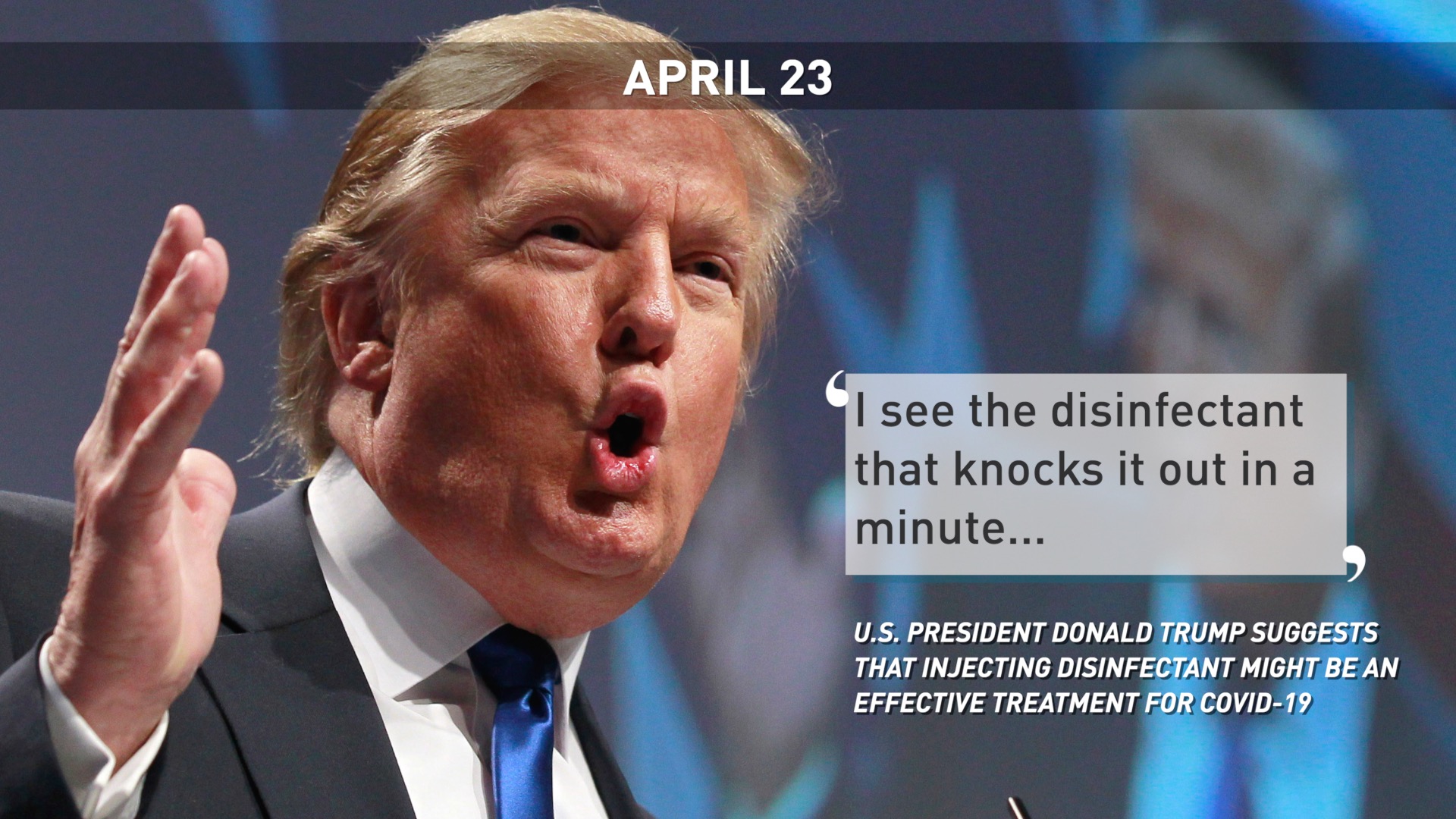 It wouldn't be a quotes of the year list without one from the U.S. president, would it?
Donald Trump came under fire for some of his comments and actions during the pandemic, from calling COVID-19 the "Chinese virus" to refusing to wear a mask, despite his medical advisers saying he should. 
He also claimed that disinfectant might be an effective treatment for the virus, something that was quickly challenged by experts across the world. 
"Then I see the disinfectant which knocks it out in a minute," he said. "And is there a way you can do something like that with injection inside or almost a cleaning? As you see it gets in the lungs and it does a tremendous… so that'll be interesting to check that. And for that you'll have to use medical doctors but it sounds interesting to me."
 
We agreed that we should go for a short drive to see if I could drive safely
 –  UK government adviser, Dominic Cummings explains breaking lockdown rules – May 25
The UK prime minister's chief adviser Dominic Cummings said he did not regret driving 260 miles from his house in London to his family home in the northern city of Durham on two occasions in March and April during the country's first lockdown.
Cummings drove around 30 minutes from his family farm to Barnard Castle on April 12, just 15 days after he had displayed symptoms, which he said was to test his eyesight in readiness to drive back down to London.
Many people at the time called for Cummings to be sacked, while the opposition Labour Party said he had "clearly broken the rules."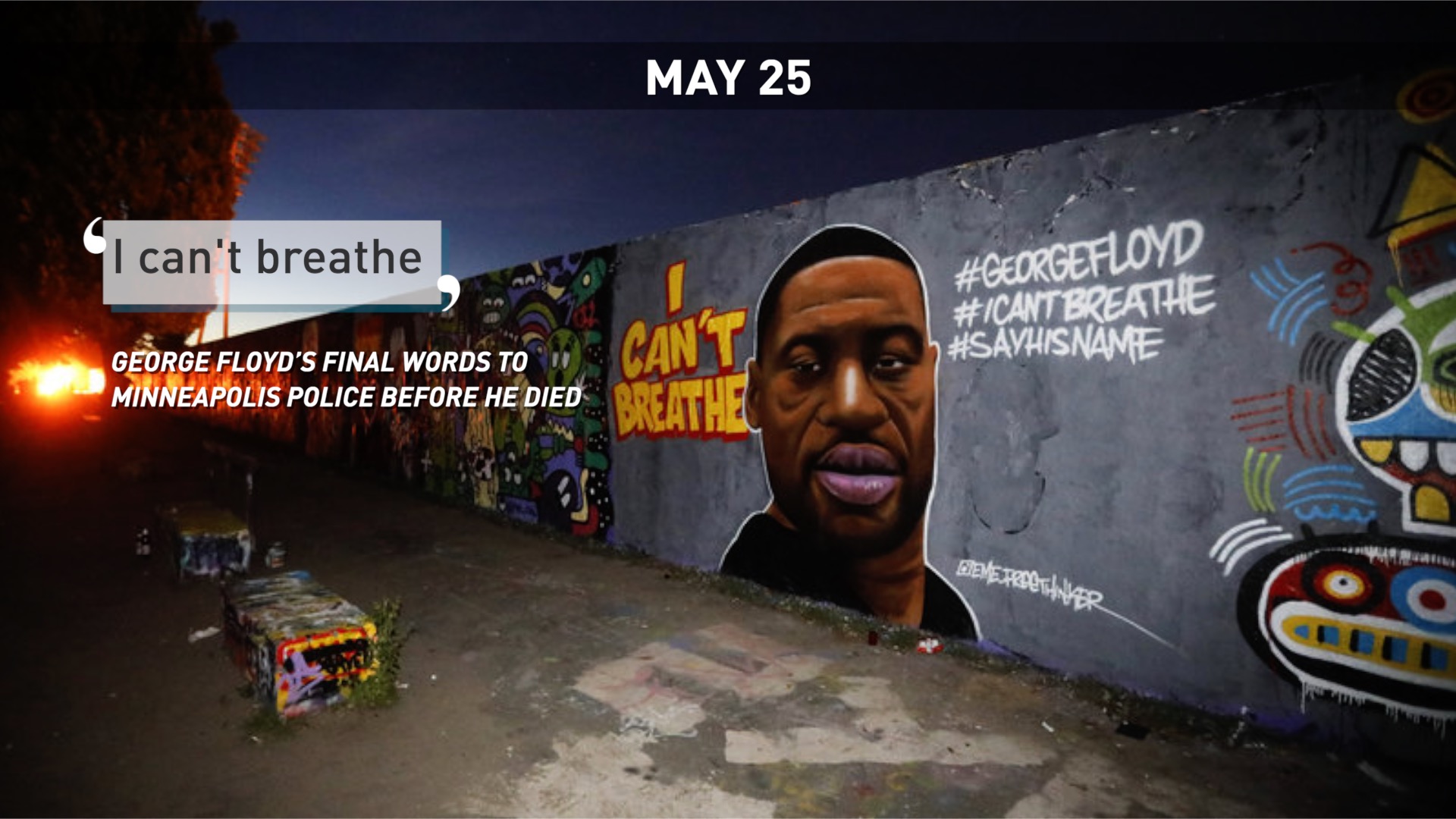 George Floyd said he couldn't breathe more than 20 times while a white police officer knelt on his neck for nearly nine minutes in the U.S. city of Minneapolis.
His death sparked mass protests across the U.S. and the rest of the world, calling for the end of police brutality and all racially motivated violence against black people.
According to a transcript released by police, Floyd, 46, also said: "Momma, I love you. Tell my kids I love them. I'm dead."
The trial of the four officers involved in the incident is scheduled to begin in 2021.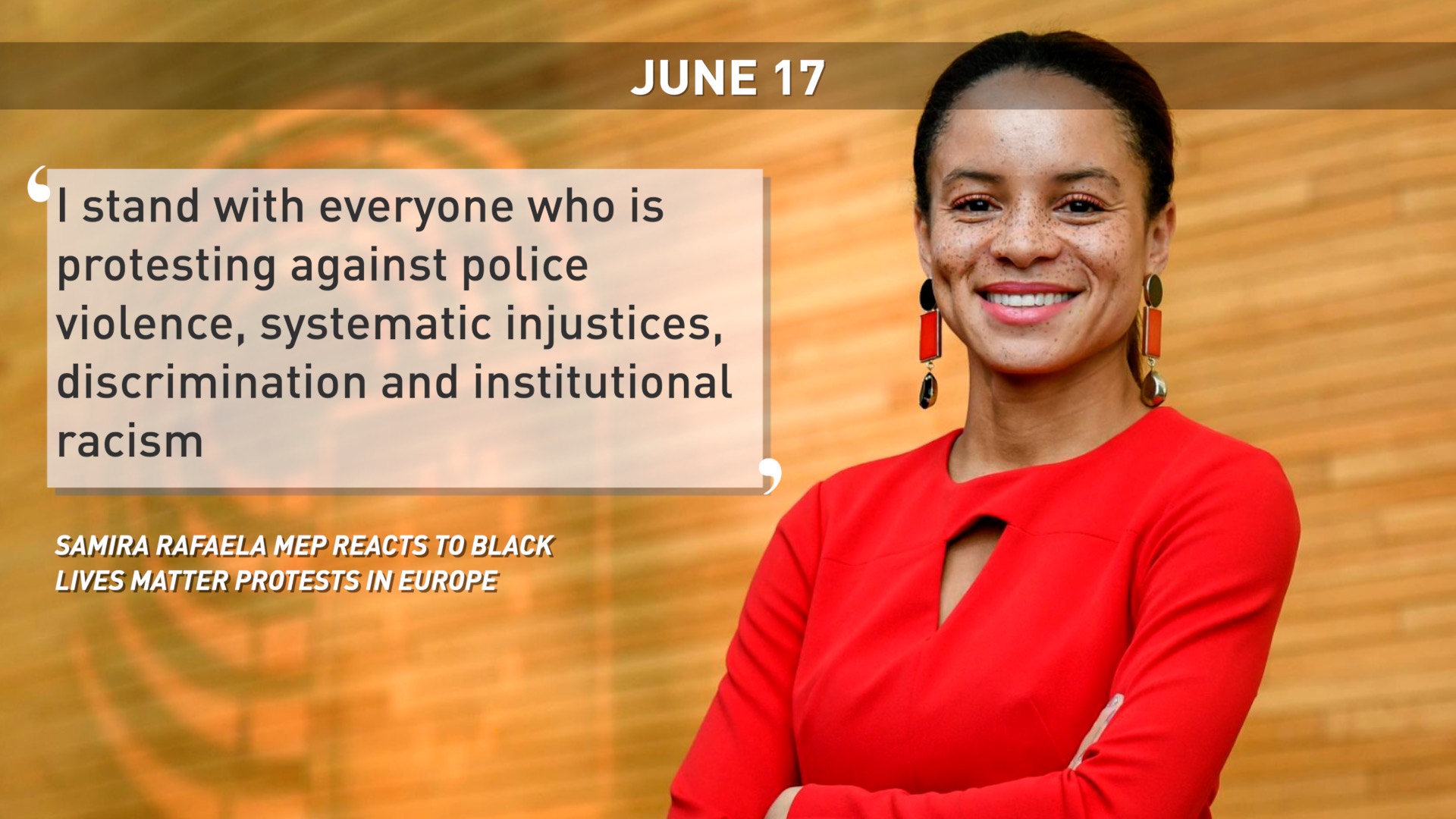 Despite some people criticizing Black Lives Matter protests across the world amid the pandemic, MEP Samira Rafaela spoke out in parliament to back those marching for the end of racism and inequality.
Thousands of protesters took to the streets during COVID-19 lockdown, with many referring to racism as a pandemic in its own right, that black people have suffered from for decades.
The European Parliament member added that the EU was "united in diversity" and people across member states demanded action.
At a time when we are all grappling with uncertainty and change, access to fundamental rights, including asylum, must remain a constant
 –  Gonzalo Vargas Llosa, UNHCR's Representative for EU Affairs – July 1
As the world battled to combat the pandemic, the UN refugee agency UNHCR called for the European Union to keep refugee protection high on the agenda.
It proposed concrete ways in which the EU can ensure a bold and robust response to forced displacement during and after the pandemic.
"The virus knows no borders and impacts everyone but certain populations, including forcibly displaced people, are at heightened risk," said Gonzalo Vargas Llosa, who added that the virus can only be tackled when everyone is protected, including refugees.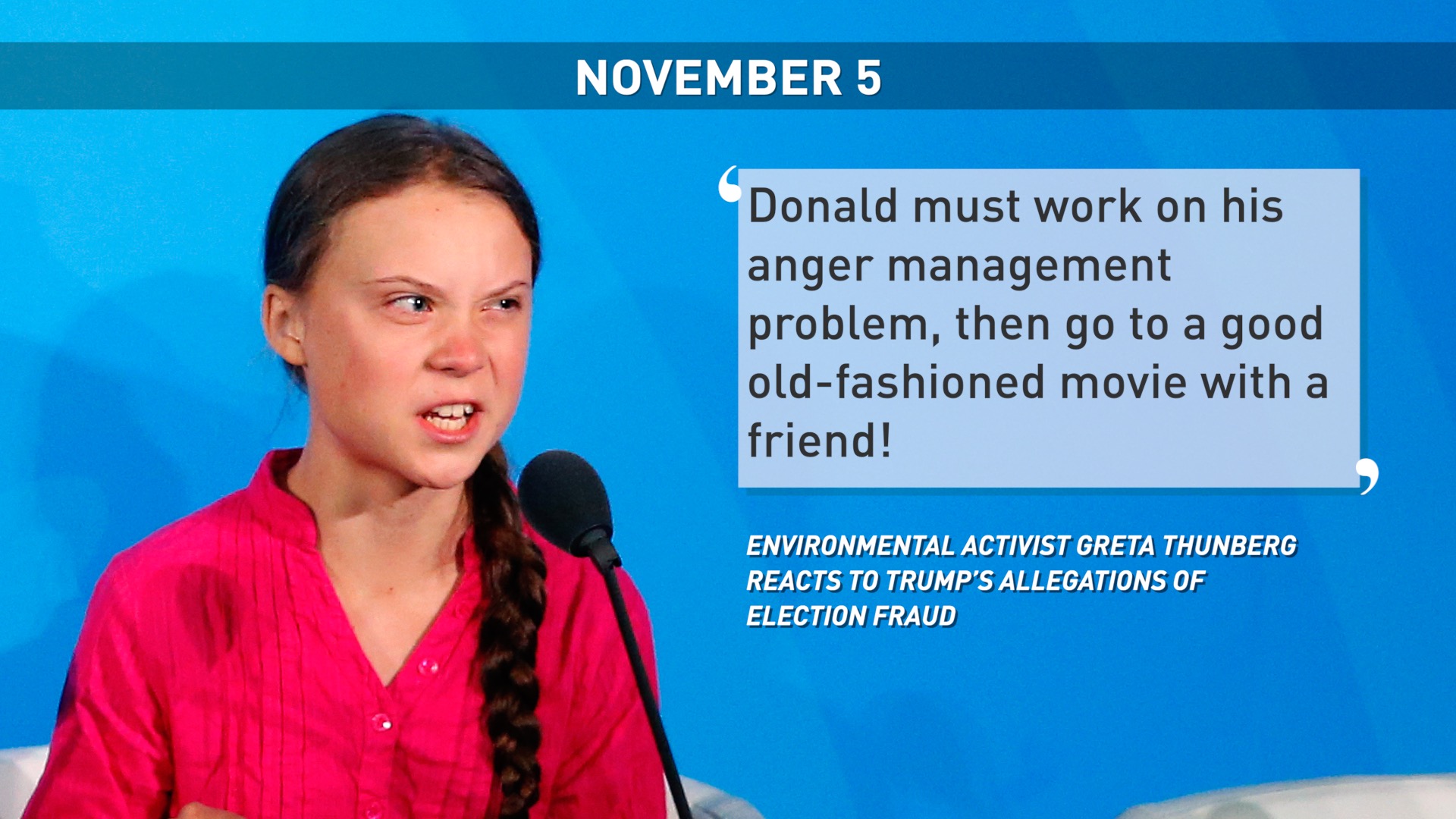 Greta Thunberg's comments towards the U.S. president mimicked a tweet Trump aimed at her last year after the campaigner was named Time magazine's Person of the Year. 
Her response came as Trump called for the U.S. presidency election vote count to stop. 
In September 2019, Trump wrote to Thunberg: "So ridiculous. Greta must work on her Anger Management problem, then go to a good old-fashioned movie with a friend! Chill Greta, Chill!"
She responded by changing her Twitter bio to: "A teenager working on her anger management problem. Currently chilling and watching a good old-fashioned movie with a friend."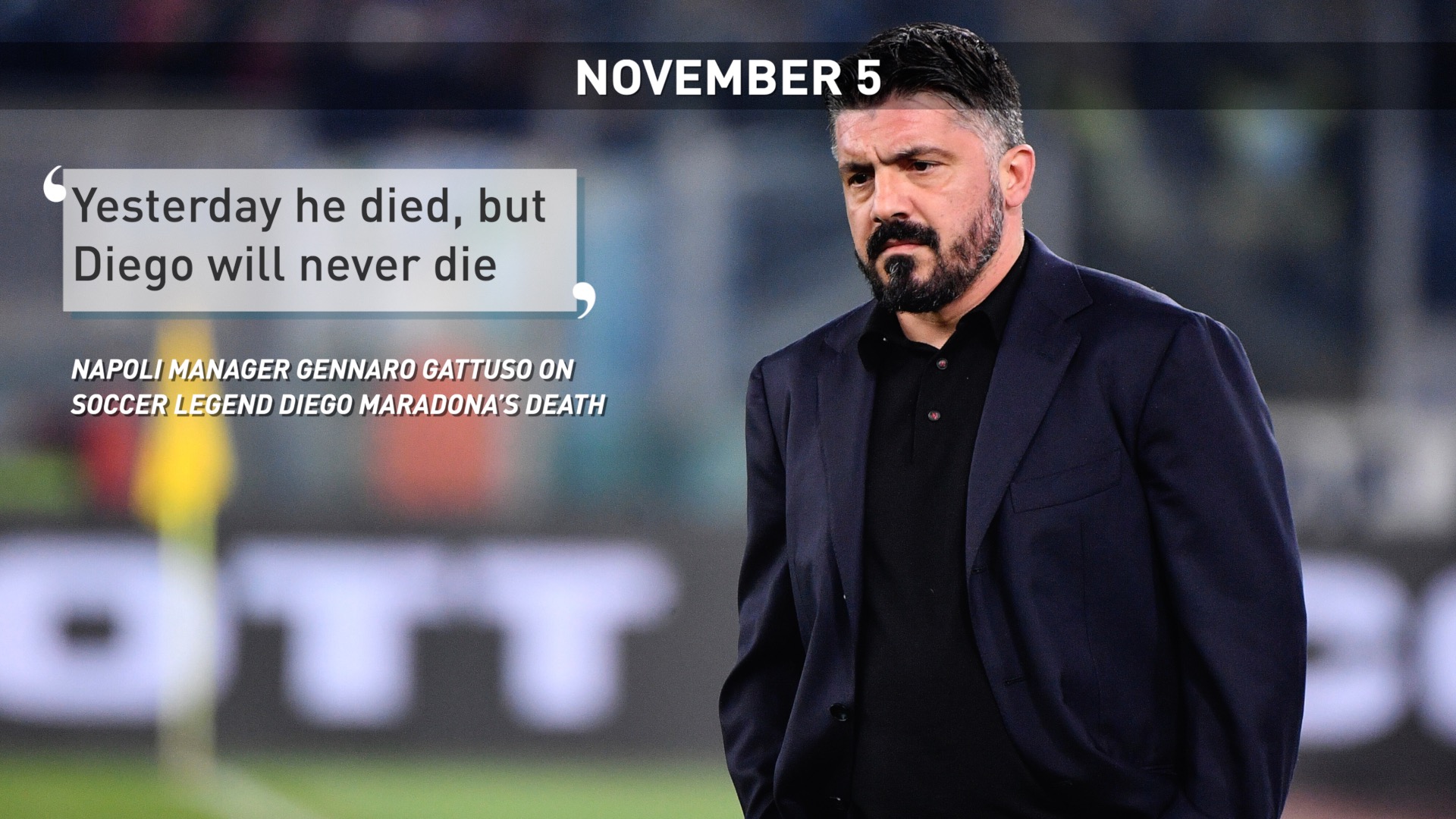 The death of Argentine soccer legend Diego Maradona saddened the sporting world. 
His career included seven years at Italian top division team Napoli, which he led to an unlikely league triumph. The club has honored him by renaming its stadium the Stadio Diego Armando Maradona. 
Current Napoli manager Gennaro Gattuso admitted in a pre-match press conference that since Diego's death "you could see that the city breathed a different atmosphere."
During Napoli's first game since Maradona's death, thousands of fans gathered outside the stadium to pay their respects to the club legend. 
The simple rewriting of article 24 will not resolve its faults and it is certainly not the only one in the proposed law that is a threat to human rights
 –  A UN report on France's proposed new security law – December 4
The UN released a report after France proposed a bill that would make it illegal to disseminate photographs or videos identifying police. 
The bill came amid growing concern about allegations of police violence across the country. 
Thousands of people took to the streets across the country to voice their concerns about the law. 
But UN experts called French authorities to completely revise the law, deeming it "incompatible" with international law and human rights.
I just don't understand why we cannot agree to agree on fishing.
 –  Spain's Foreign Minister Arancha González Laya – December 13
Spain's Foreign Minister Arancha Gonzalez Laya seemed to lose patience with Brexit talks, as the UK and EU struggled to agree on a deal for fishing waters.
With time running out, it looked unlikely that a deal would be agreed. 
"That's the magnitude of the problem, so I have difficulties understanding why we cannot agree to a landing zone on this," she added.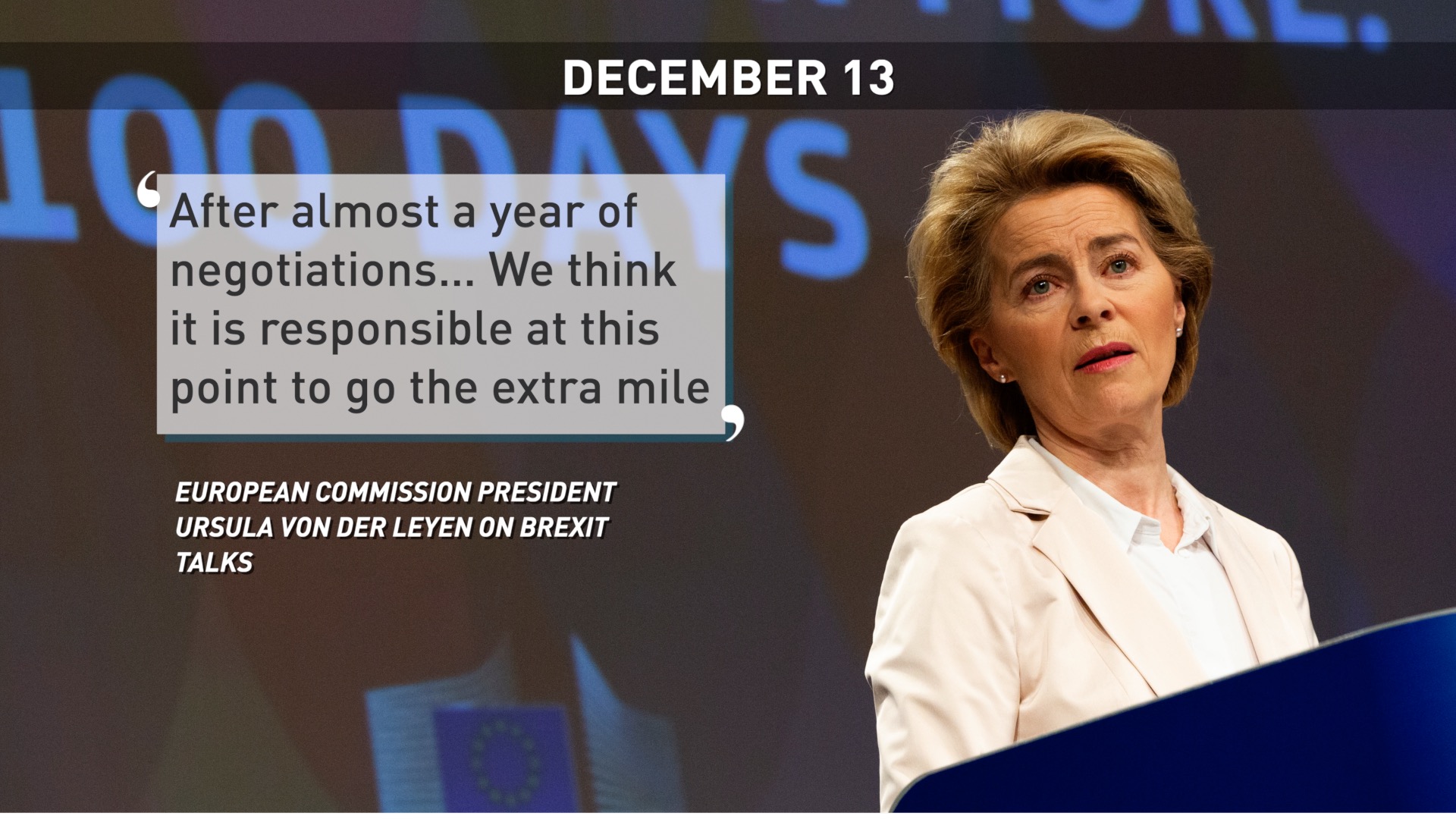 With only a couple of weeks to go before the end of the Brexit transition period, European Commission President Ursula von der Leyen and UK Prime Minister Boris Johnson agreed to carry on post-Brexit trade talks following a call between the two leaders.
They both agreed to tell negotiators to carry on talks in Brussels "to see whether an agreement can even at this late stage be reached."
Von der Leyen said she felt it was necessary to continue to try to reach a deal "despite the exhaustion after almost a year of negotiations, despite the fact that deadlines have been missed over and over."
Today is a day of relief, but tinged by some sadness
 –  Michel Barnier, EU's chief Brexit negotiator after the EU and the UK agreed a post-Brexit deal – December 24
The EU and the UK agreed a post-Brexit trade deal in the final hours. 
After almost a year of negotiations, the historic deal secured the UK's future trading relationships with the EU, leading to relief in Downing Street but a more sombre reaction in Brussels. 
The new deal will come into play from January 1, when the UK's period of transition ends. 
What is your favourite quote of 2020? Let us know on Facebook, Twitter or Instagram @CGTNEurope.
Video editing: Terry Wilson