Work-exchange programs are a great way for travelers to get a feel for a new city or country without breaking the bank. These programs allow you to stay in a new place rent-free, in exchange for working a set number of hours each week. This can include anything from cleaning up after guests at a hostel to teaching English to local students.
The best part about work-exchange programs is that they offer an opportunity to really get to know the culture of your destination. You'll be able to make friends with locals, learn about their customs, and explore all the hidden gems the city or country offers.
Nowadays, several websites help you find work-exchange opportunities, and in this guide, we'll talk about HelpStay.
If you're interested in learning more about HelpStay, read on for our complete HelpStay review.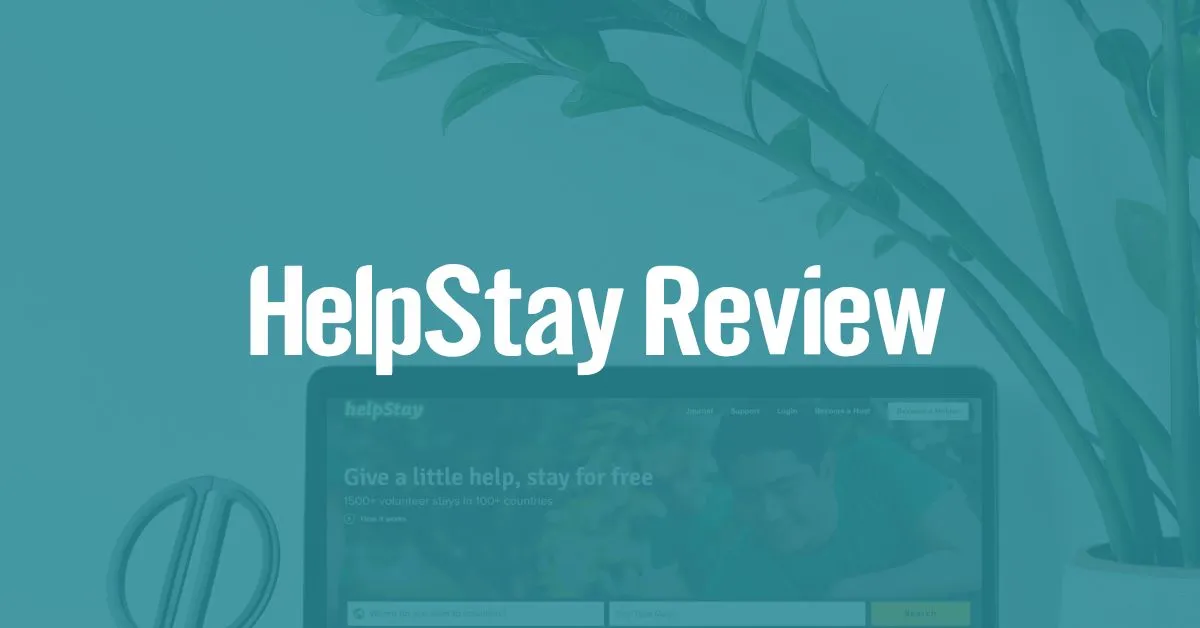 What Is HelpStay?
HelpStay is a work-exchange platform that allows you to find volunteering opportunities with hosts in 100+ countries. In exchange for your help, the hosts will provide you with free accommodation and often meals as well.
By getting a HelpStay membership, you can contact hosts and apply for a volunteer position – allowing you to travel further and longer without paying for accommodation.

How Does HelpStay Work
First, you can search for volunteer opportunities worldwide on the HelpStay website.
Once you find a place you're interested in, make sure to sign up to be able to contact the host.
The second step is to create a profile. Give details about yourself and your skills.
When creating your profile, make sure to include photos. If you already volunteered in the past, add photos from those times too.
Finally, you can apply for your dream volunteer position on HelpStay.
Once you're approved, you'll get to your destination and start volunteering. In exchange for your help, the host will provide free accommodation. Depending on the position, you might also get free meals. You can find all the details on what's included in the position in the listing.
HelpStay connects travelers and hosts – making it easy for everyone to get help or free accommodation.
HelpStay Advantages And Disadvantages
What are the advantages and disadvantages of HelpStay?
There are many reasons why people choose to use HelpStay. In this section, we'll discuss some advantages and disadvantages of using this work-exchange platform.
Advantages Of Using HelpStay
There are many benefits to using HelpStay. For starters, it's a great way to save money on accommodation, and it allows you to travel further and longer. Plus, you'll get to meet new people and have unique experiences that you wouldn't have otherwise.
You might even learn new skills during your volunteering position.
Some of the other benefits include:
A safe and enjoyable volunteering experience
Great support, especially if it's your first time volunteering abroad
A community and resources available in the Journal section
Honest and trustworthy reviews
Disadvantages Of Using HelpStay
When thinking about the cons of using HelpStay, it was trickier. However, we did manage to come up with a few:
Availability: One of the main disadvantages of using HelpStay is that not all countries are available on the platform. While more than 100 countries are available on the website, other platforms have more options. For example, Worldpackers covers 140 countries.
Fees:  Another disadvantage of using HelpStay is that there is a small fee to sign up for their platform. It's slightly more expensive than Worldpackers or Workaway.
Who Is HelpStay For
HelpStay is a great option for travelers who want to see the world and dive deeper into new cultures. It's perfect for students, digital nomads, backpackers, or anyone else who wants to see as much of the world as possible.
If you're interested in finding volunteer opportunities and are willing to help out in exchange for free accommodation, HelpStay is definitely for you.
It might not be a good option for you if you want to enjoy your holidays without work. As it's a work-exchange program, you need to do some work to get your accommodation.
HelpStay Destinations
Wondering where you can go with HelpStay? You'll find work-exchange opportunities pretty much everywhere: Europe, Asia, Africa, Oceania, and the Americas.
We suggest you browse the work-exchange positions on HelpStay to see if your dream destination has some exciting projects you could apply for. 
Simply type your destination and search to browse the positions available on HelpStay.
How To Find A Host On HelpStay
To find a host on HelpStay, you can either click on a Stay Type, or you can search for your destination. Then, you can read the listings to find somethings that interests you.
On HelpStay, you'll find work-exchange positions everywhere in the world.
PSSST. Want to get FREE accommodation in exchange for work?
If you're traveling on a budget or want to save and extend your trip, this could be exactly what you're looking for. Worldpackers is a platform that connects travelers like you with hosts. It's just like volunteer work –exchange your skills for free accommodation. SAVE $10 using my discount code. Learn more about how it works here.
You'll also find different types of experiences:
Animal and environment
Hostel and hospitality
Building and restoration projects
Farming and homesteads
Community betterment
Teaching and languages
Internships abroad
Volunteering for groups
Etc.
Find volunteer positions that interest you, and verify their requirements. If you think it's a good fit, send the host a message and tell them why you'd love to get the opportunity. You can also ask your questions.
When confirming your volunteering position, be sure you have the documents needed (for example, do you need a visa? If so, head to iVisa and apply for it.) Purchase your flights and travel insurance.
To ensure you have a great experience, select the following filter: Stays with review.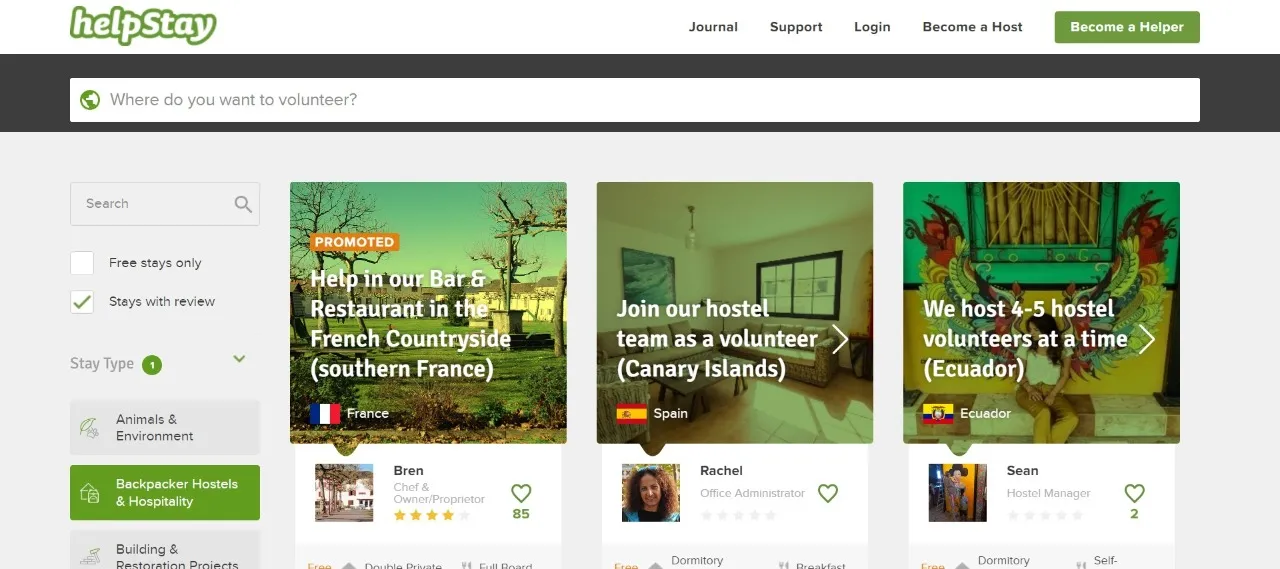 What To Look For When Choosing A Host On HelpStay
Here are some factors to consider when choosing a host on HelpStay:
The type of work you want to do: what's the volunteering position about? Does it fit your skillset?
The country/destination: is it a place you want to visit? Do you feel safe there?
Availability: Is it available? Click on the Availability tab to find out.
Requirements: do you meet the requirements? For example, some hosts might require you to have a driver's license or be a native English speaker.
Read reviews: what are other travelers saying about the host?
Fees: Are there fees involved? (For example, some projects may charge airport transfer fees, etc.)
Once you've considered all of these factors, you can narrow down your options and decide on the best host for you.
HelpStay Membership Price
Wondering how much is HelpStay?
There are currently 2 types of memberships available on HelpStay.
Let's take a look at them one by one.
HelpStay Single
The Single Plan allows you to apply to volunteer positions worldwide.
Cost: EUR 42.99 for one year
HelpStay For Couples/Friends
The Couples / Friends Plan allows you to apply to volunteer positions that accept couples or friends worldwide.
Cost: EUR 51.99 for one year
How To Get The Most Out Of HelpStay
Here are some tips to get the most out of HelpStay and make the most of your experience when volunteering abroad:
Create a great profile: add a photo, write a compelling bio, and list your skills.
Apply to positions that interest you: don't just apply to anything; take your time to find a good match.
Join the community on Facebook and ask questions if needed.
Be proactive: reach out to hosts, ask questions, and express your interest in the position.
Don't forget your documents: make sure you have everything you need before confirming your trip.
Purchase your travel insurance: this is a must when volunteering abroad.
Check the reviews: before confirming a trip, make sure to read the reviews from other travelers.
My Experience Volunteering For Free Accommodation
During my twenties, I went on long backpacking trips without much money. HelpStay didn't exist back then, but I did several work-exchange experiences on farms, hostels, and more.
While most of my volunteering experiences were positive, some were not that great. Overall, I still keep happy memories from my time volunteering abroad. You can read some of the stories inside my guide to volunteering abroad in exchange for free accommodation.
HINT! My favorite experiences were the ones where I volunteered in hostels. I had the chance to meet lots of travelers and made a lot of friends. If a hostel job is more appealing to you, you'll find plenty of hostel volunteer opportunities on HelpStay.
Frequently Asked Questions About HelpStay
This section will answer some of the most frequently asked questions about the HelpStay work-exchange website.
Which Is Better – HelpStay Or Worldpackers?
We think it's better to browse volunteer positions to decide which platform is best for you. Depending on your destination, HelpStay might be better, while Worldpackers might be better for other destinations or types of project. Browse and compare your options on both websites to make up your mind!
Is HelpStay Legit?
Yes, HelpStay is a legit company that was founded in 2014. Their team of freelancers and digital nomads is based in Ireland, the United States, Chile, Poland, Scotland, and Albania.
Not only is HelpStay a legit company, but it's also one of the best work-exchange websites out there.
Is HelpStay Free?
No, HelpStay is not free. There is a membership fee that allows you to access all the features of the platform. For example, you'll need to get a membership to apply for volunteer positions.
Although, if you wish to browse the work-exchange positions first, you can take a look for free.
Is HelpStay Worth It?
Yes, we believe that HelpStay is definitely worth it!
The membership fee is affordable, and you'll be able to travel longer without breaking the bank!
If you're looking for a work-exchange platform, we definitely recommend HelpStay.
Is HelpStay Safe?
Yes, HelpStay is a safe platform to use.
The company has been around for many years and has helped thousands of travelers find volunteer opportunities abroad.
In addition, HelpStay is very selective when approving hosts. They build their brand based on trust and honesty. That said, we recommend you pick a host with reviews to clearly understand what to expect.
Do I Need A Visa To Volunteer Abroad?
This answer will vary depending on your nationality and the country you wish to volunteer in. We recommend doing research on this topic before applying for any positions.
If you're going to volunteer in a non-governmental organization or a foundation, you will need a special visa for volunteers, depending on the country.
However, most hosts on HelpStay are not non-governmental organizations; they are private people willing to invite travelers to their homes and projects. Many HelpStay members have done it on a tourist visa as it is not technically volunteering. It's a friendly exchange of help for stay.
That being said, you can take a look at iVisa to find out if you need a visa.
Usually, if the volunteer position is short, a tourist visa should be good enough – but it could also depend on what you're going to tell the customs agent when entering the country…
Can I Volunteer Abroad Without Speaking The Local Language?
Yes, you can volunteer abroad without speaking the local language. However, it will be easier to find a position if you have at least some basic knowledge of the language.
Can I Volunteer Abroad If I'm Not A Student?
Yes, you can volunteer abroad even if you're not a student. There are many work-exchange opportunities available for all types of travelers.
To sum up, whether you're a student or not, we believe that HelpStay is a great platform to help you find volunteer opportunities abroad.
What Is The Minimum Age?
Legally, you can volunteer when you are 18 years old. In some places, the minimum age is 21 or more.
What If Something Goes Wrong During My Work-Exchange Placement?
If a host doesn't respect what you agreed to previously or if there's another problem, contact HelpStay support and community.
Final Thoughts On HelpStay
Overall, HelpStay is a great platform that connects travelers with hosts all over the world. The website is safe to use, and the company has been around for many years. In addition, HelpStay has an engaged community that can answer any questions you may have.
If you're traveling on a budget, consider joining HelpStay! You can find volunteer positions in many different countries, and the membership fee is affordable. This means you could travel longer and further – without breaking the bank or having to head back home early.
Traveling on a budget? Read one of the following guides: